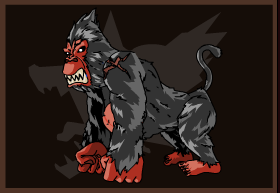 hi guys, are you really hard to kill the ape king boss? read this article and you will be know.
first, you have to recuit friends that has hell fire jutsu, prison colliding wave jutsu,restriction ability, and stunning ability
second, your pet must be leiko level 20, it has poison skill that can reduce the ape king's hp by 3% for 2 turns!
third,get the yanki burning sickle, get it from the level 20 boss, and upgrade at blacksmith, it reduce 1% hp of the ape king for 3 turns!
fourth, equip more scroll, or healing abilities of your jutsu's, you really need these because the ape king is really tough.
fifth,you must have smoke bomb, this is really coward, but when you almost lost your friends especially tough friend, you have to escape by using it, and when you fight back with the ape king, your friends heal power will be full again, lol, that is really nasty is not it?
the 6th, if you have wind element please do not be mind to use the evasion and wind peace, what is evasion? it is a jutsu that give you 40% chance to dodge attack and kind of jutsu, and what is wind peace? it is a jutsu that give you 20% chance to dodge too, but it can be apply for all members of your team.
for you who do not playing this game, please play it, but don't blame me if you were addicted :D